We have reached that time of the year where we compile the things of the year into a nice orderly list that we can all agree on with no argument. I would do this for games, but it is unlikely that I have even played 10 games that were released this year. Films I have done a better job with, but I should caveat this list that there are obviously hundreds upon hundreds of films released this year that I have not seen. Although I easily get to see over a hundred films in a year, many of these will not be new releases. I also do not have easy access to an independent cinema, so the list is mostly mainstream releases. These are just the films I have seen that I have very much enjoyed this year, I will not claim they are the absolute best that are available. Critics that are able to do this as a job will better serve you for a more thorough list.
So, with that out of the way, here are the 10 films that I have enjoyed the most this year, in some vague kind of order:
10. Once Upon a Time… in Hollywood
I will admit it, I find Tarantino overrated in many corners of the film criticism world. His films are often overly long, prone to delving into filmmaking immaturity that you would expect from less seasoned directors and often with outdated depictions of women and minority groups. Once Upon a Time… in Hollywood contains examples of all of these. It also contains examples of Tarantino at his very best. At times, you may wish that someone came along to chop a scene in half or out of the film entirely, whilst at other times you may have wanted to spend more time cruising with Brad Pitt's Cliff Booth as the sounds of the 60's blasting from his radio. This Hollywood fairy tale re-writes history to create an LA world that could have continued to exist, if the Manson murders had not taken place. The film serves as a love letter to a place that was cut short by a brutal act instigated by this man. I must admit, I do not know the story of Charles Manson particularly well and I suspect that the film plays better for those more in the know, but even with limited knowledge, this story plays out with that tragedy in the background the whole time, never fetishized as true crimes can often be. It may take an unnecessarily long time to reach it, but when Tarantino carries out his act of retribution, much like with Inglorious Basterds, it is as wonderfully cathartic for us to watch as I have no doubt it was for him to write and direct.
9. Booksmart
This fun, light-hearted, smart romp is an energetically enjoyable piece of filmmaking that reflects the life of an American teenager in the close of this decade (at least, as much as I can tell as a Brit in my early 30s). I fully expect Booksmart will be remembered by teenagers of 2010s/2020s as American Pie was for teenagers of 1990s/2000s. It also shows the big difference between the times of these films. Rather than these kids desperate to get laid before they go off to college, the pair of teenagers we follow in Booksmart are just looking to let their hair down for just one evening. Not only are the central figures of Amy and Molly brilliantly realised (wonderfully played by Kaitlyn Dever and Beanie Feldstein), but all of their classmates are drawn to perfection, all characters that are allowed to be and embrace who they truly are. There is still plenty of moments for some gross-out humour and awkward sexual encounters, but the film doesn't forget that its real delights can be found from just letting these characters be themselves.
8. Joker
Joker often feels like a film trapped within the Batman universe. At its best, it is being its own thing. The moment that Arthur Fleck first kills and begins to dance to his own tune, is not something you would expect to see within a Batman flick, but will no doubt go down in history as one of the great sequences to appear in any film, whether it be comic book inspired or not. Yet, the need to place this film into the Batman mythos always seems to linger in the back of the film and pulls it into a less successful direction. From the moment that a young Bruce Wayne appears on the screen, things almost begin to start falling apart. Fortunately, the stunning performance from Joaquin Phoenix, as well as the absolutely exquisite sounds from the composing of Hildur Guðnadóttir, holds everything together and keeps this feeling fresh in a way that it otherwise may not have without them. Controversial by some who mistake good acting from Phoenix for a sympathetic portrayal, this is no doubt a darker take on a character that has regularly pulled Batman into more introspective territory. Rarely has a previous portrayal removed all levity from the character, with even Ledger creating a character that would clown about far more than Fleck, despite being an actual clown and wannabe standup comedian. Instead, he comes across simply as pathetic, donning the classic green hair and make-up to draw attention to himself in a world that has ignored him far too long. The film almost has important things to say, but often is too loud about shouting them, to a point were you almost suspect it is saying them for the sake of saying them. Still, this is a brave take on a comic book character, going further than even Nolan did with his trilogy, and one that will no doubt be mimicked by many other attempts and I'm sure we should expect some more villain origin stories appearing on our screens soon.
7. Apollo 11
This year saw the 50th anniversary of one of the greatest human achievements of the 20th century; the days in which a crew of three men took to the stars to walk on our moon. Apollo 11 celebrates this by showing the incredible journey that they took through some breath-taking scenes that have been beautifully assembled and remastered from archived footage. It is tough not to be exhilarated by what is shown during this documentary, from the incredible lift off sequence to peaceful moments of stepping out onto the moon's surface. Getting a chance to follow the mission so closely is an absolute joy to behold and it really demands to be seen on the big screen. The soundtrack that accompanies the footage should also not be forgotten. Created by Matt Morton, the use of music is superb throughout and adds massively to the experience.
This film is essential viewing for anyone that has ever looked up to the stars and dreamed.
6. Avengers: Endgame
This year has really proven that an accumulation of 10 years of storytelling is always going to be divisive. Compared to the other global franchise that reached its conclusion after a decade though, Endgame is undeniably the more successful. The opening sequence felt like such a brave choice to make, cementing the events of Infinity War as not something that is going to be simply resolved and I have no doubt that my cinema was not the only that was abuzz with tension when the "5 years later" text appeared on the screen. What followed was a bleak portrayal of a society that was only just holding together following such a catastrophe. Yet, the film doesn't take long to remember what joy these characters have all brought us throughout their 21-film history and bring on the fun. The time travel escapades are a delight to watch, particularly the New York sequences taking place alongside the first Avengers film. It is perhaps a shame that the quest for the other Infinity Stones don't quite have the same energy as this one, but the final battle sequence more than makes up for it. I was only just about able to maintain my reserved British film watching persona during "AVENGERS… assemble", Cap wielding a new weapon and "We got her back". The rapid fire of pay offs during that final sequence was incredible and the fact that the film managed to do them without feeling like too much demonstrates the craftmanship that has gone into all those years.
Normally, I come out of a Marvel film having had a good time, but not feeling much need to return to them. Endgame didn't just make me want to re-watch it, it made me want to re-watch 22 films!
5. Fighting with my Family
It certainly could be argued that 2019 was the year that everyone took notice of Florence Pugh and I fully expect nominations to be coming her way this award season. It is perhaps a shame though, that this is the film that will likely be overlooked for them. A simple story of someone from humble beginnings becoming a star that we have seen many times before, only this time those humble beginnings happen to be a Norwich based family of wrestlers. The film manages to expertly show this as a loving and tightknit family, despite them spending most of their time beating each other up. As with her other performances this year, Pugh is magnetic in the lead role of Saraya, who would go on to become Paige in the WWE. It is perhaps her parents that really stand out though, with Lena Headly being allowed to demonstrate she can do more than just stand at the top of a tower drinking wine* and Nick Frost showing that he doesn't need Simon Pegg by his side to portray hysterical characters.
It really is hard to fault this one, with its touching portrayal of its characters throughout and ultimately being such a feel-good watch, not just for the love each character has for their family, but also for their whole community.
4. Us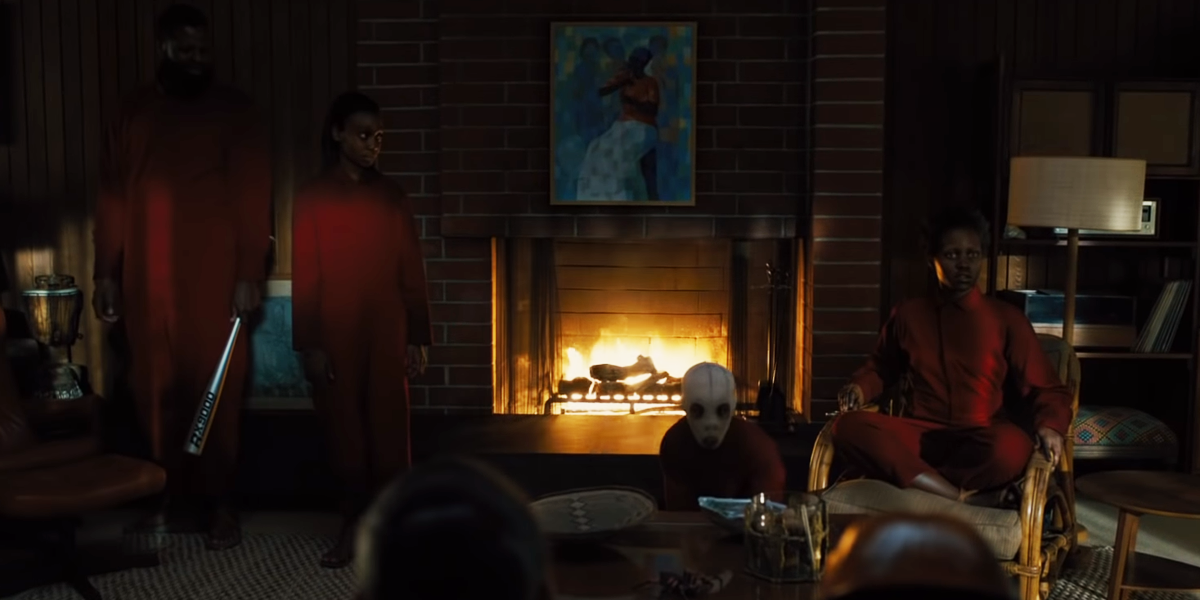 Jordan Peele is very quickly becoming one of my favourite directors of the moment. He is two for two now and I really can't wait to see what comes out of his mind next.
With Us, Peele has created a unique vision of modern America that is as complex as it is gripping to watch. It is also showing him develop leaps and bounds technically as a director from where he was with his debut film Get Out. It may not stick the landing quite as well as that film, but it is dealing with a much more expansive canvas than his previous film and shows an ambition beyond the smart thrill ride of his earlier film. The central conceit of the characters being attacked by dark mirrors of themselves is an excellent concept and the film manages to keep us on the edge of our seats. That is, it manages to do that right up until it feels the need to give us an explanation dump and immediately draw attention to the absurdity of the conceit. Which is a pity, as it draws attention away from one of the finest fight sequences you are likely to see in any film this year.
The film also gives a lead role to excellent Lupita Nyong'o, who is another actor whose star has been raising of late. She is really able to flex her acting muscle with this one too and she throws herself into these roles with gusto. We are right there with her Adelaide all the way through, faltering only towards the end. It is shame that those final moments could not have left some ambiguity (particularly as I saw the ending coming from the opening sequence) and I believe without being given the answers this film could have fuelled as many debates as Blade Runner's Deckard, but it is a testament to the film that it could even raise such possibilities.
I've only seen this one once, but I expect it will reward repeat viewings. I'm looking forward to doing so sometime soon.
3. Minding the Gap
From a fictional depiction of modern America to a real life one, one that is perhaps scarier.  Minding the Gap is a documentary from Bing Liu about his male skateboarding friends, as they enter different stages of adulthood.  What initially just seems to be about the lives of these friends, soon begins to reveal a dark side of the modern American working-class man and the cycle of abusive family life.  Skateboarding is shown to have been an escape for these friends from their troubled relationships with their family.  At one point we see a skateboard with the words "this device cures heartache", but it was never really a cure and the film demonstrates this as we see these three young adults struggle to become men.  This is none more dangerously true than with one of the friends, Zack Mulligan, whose relationship with his off and on girlfriend and mother to his child, Amy, is overshadowed by lurking accusations of abuse.  A monologue from Mulligan towards the tail end of the film when Liu confronts him with these accusations is one of the most heart-breaking scenes I have seen in a very long time and makes those happy scenes of the three friends early on seem like a distant, shattered memory.  Similarly, Liu's own story of abuse from his father are crushing when he tries to discuss them with his mother, who just wants to bury and forget that time.  Race also comes to the fore with Keire Johnson, who appears for most of the film always with a smile, but knows he can never forget his heritage.  He also has some of the most touching lines to say about his father, despite also suffering at his hand.
The stories told here show so much more than just the lives of these three. No other film has made me cry more this year through the incredible beauty it draws from these three men.
2. Rocketman
Could they really go any other direction with a biopic of Elton John's life than make it a full-blown musical extravaganza? The massive chorography from The Bitch is Back and Saturday Night's Alright for Fighting are a spectacle to behold, whilst the choral twist on Crocodile Rock is mesmerising. The real story though is of a man that is on the edge, dealing with addictions and struggles with connecting with those around him, conflicted by his sexuality and searching for anyone that would give the love he much needs. It is hard not to feel huge sympathy for Elton, even though he spends much of the film lashing out at those around him, latching onto people that will only hurt him and punishing his body through a colourful cocktail of drink and drugs. The little child that he is at the start of the film is never far away from the events, waiting for someone to give him a hug.
There are times when the film perhaps dwells a little too much on his pain. The sequences following the amazing rendition of titular song lingers too much on telling us how low he has gone, despite Rocketman already expertly showing us he has hit rock bottom and I perhaps would have preferred an extended sequence in the rehab of his head to cover the same ground, but those complaints are minor compared to the incredible combination of joy and pain that is on display throughout the film. There really couldn't have been a much better demonstration of the eclectic mix that is Elton John's music. They are also fantastically realised through the performance of Taron Egerton, who depicts Elton wonderfully, be it though song or not.
1. Midsommer
And we come to another horror director that with two films has shot straight up to being one of the most exciting working right now. With Ari Aster though, you couldn't get much more different tonally than what Jordan Peele has created. Where Us deals with a grand picture of American society as a whole, Aster takes a seemingly much simpler topic by placing a breakup film in a horror film, as well as continuing his examinations of grief from Hereditary. It is no less the grand endeavour for it though.
We also have another performance from Florence Pugh entering the list and this is nothing short of an incredible depiction of a young woman that is breaking apart following the devastating tragedy that infects her during the opening beats of the film, a harrowing and shocking sequence that is as powerful as it is disturbing.  Jack Reynor also gives a subtle and retrospectively nuanced performance as Christian, the boyfriend that feels trapped in this relationship, always searching for the right things to say to avoid upsetting Dani.  The relationship between these two reveals how toxic even a subdued masculinity can be to a relationship, as Christian regularly gaslights Dani, often seemingly without his own conscious knowledge**.  I'm sure I was not alone for much of the film feeling sympathy for Christian, as he seemingly tries to do the right thing by sticking by Dani's side during her moment of mourning, only for his repressed unpleasant edge to come more to the fore as the film proceeds.
With all this heavy material though, the inclusion of Will Poulter's Mark reminds as that we are okay to laugh at what we are seeing unfold. Midsommer doesn't forget that much of what it is doing is quite ridiculous, with its overly friendly cult of Swedes that only occasionally feed visitors pubic hairs and hold raffles for who will be sacrificed this Summer Solstice. There is a huge amount of silliness going on and the genius of Mark's character is a cue to us that the film is in on the joke too. This all accumulates with a sex scene that is as funny as it is disturbing.
As with Peele, Ari Aster has taken on a bigger film following the success of his debut. He sticks the landing much more than Peele though, even though this almost 3-hour horror film that is set in perpetual daylight should probably not work as well as it does. The scares might not be as overt as his previous film, to the point where some might not even consider it a horror film, but there are sequences constructed here that will no doubt linger in the mind for a long time beyond 2019.
*I feel like I need to say, after two digs at Game of Thrones in this article, I actually enjoyed most of the final season!
** Worth noting here for anyone that is catching up on this film, avoid the director's cut for this reason. This point is made more overt and Christian becomes a nasty figure right from the early scenes. There are some interesting additional and extended scenes within the director's cut that make it worth a watch after initially viewing the theatrical cut, but it is definitely a lesser version.